The first-ever Patreon creator census
May 4, 2022
Here are the results from our 2022 Patreon Creator Census.
---
Earlier this year, we launched our first-ever Creator Census: a survey that asked you — creators earning an income on Patreon — to tell us more about yourselves. We're constantly learning about our community through ongoing research, feedback forms, focus groups, and more, but the Creator Census gave us the chance to hear from all of you at once and get a broader view of your wants, needs, and aspirations in a single place.
Thank you to every one of you who took the time to complete the Census. Thousands of you shared who you are, how you run your creative businesses, your high points and your pain points, and what you want to see next, both on and off Patreon. We spent the last few months reading every piece of feedback and poring over every bit of data. Your input has helped sharpen our focus and inform which areas we'll explore next.
Here's a look at what we learned about the vibrant and varied creator community that makes up Patreon.
A note on results you'll see here: To accurately reflect the population of creators on Patreon, we've weighted the respondent data you'll see below (unless otherwise noted). Specifically, we found that visual artists were more than four times more likely as other types of creators to fill out the census. For questions where the results differed significantly by creator medium, we show the unweighted data.
Who you are
How you run your creative business
Where Patreon fits in
High points & pain points
Looking ahead
I. Who you are
Over 13,000 earning creators weighed in from 113 countries, in 18 languages. That's our largest single sample yet of the 250,000+ creators active on Patreon.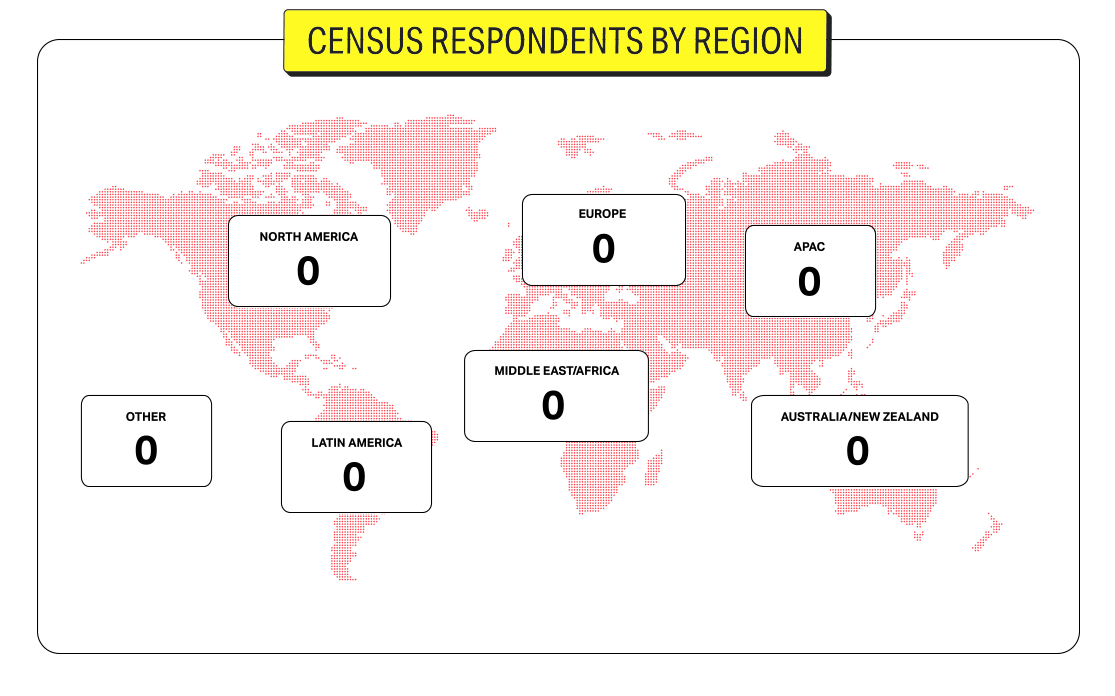 What you make
As creators on Patreon, you express yourselves in a range of mediums, from music to visual arts and everything in between. Video is the most popular primary medium on Patreon (used by over a third of creators), followed by writing and podcasts.
What topics are you interested in?
It's clear that your interests are as broad and varied as your mediums of expression. Your work touches on everything from recipes to true crime to finance to pop culture.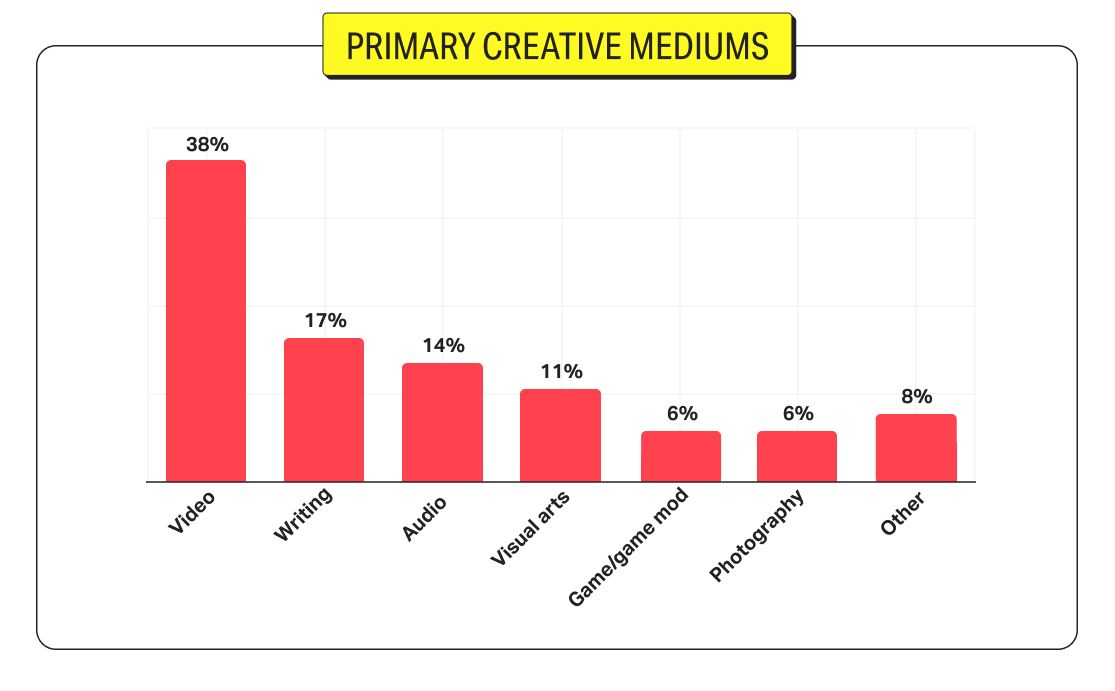 II. How you run your creative business
Creativity isn't one-size-fits-all, and we got an inside look at all the unique ways you've structured your businesses, including where and how Patreon fits in.
Where are you in your creative journey?
56% of you consider yourselves closer to being a seasoned professional, while 44% said you're closer to just starting out.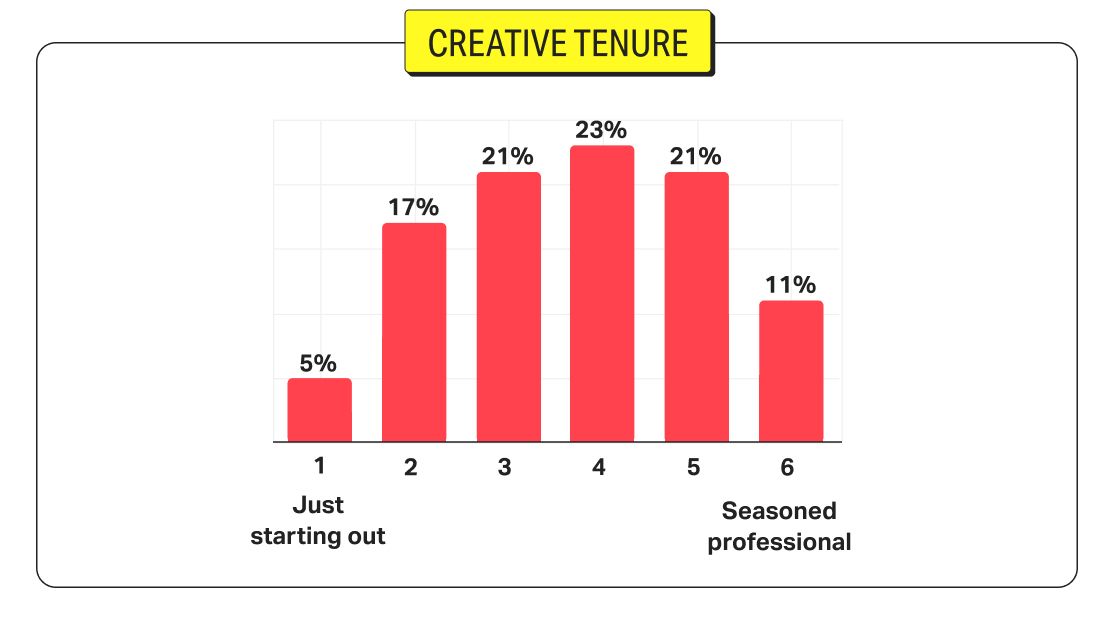 Who do you work with?
80% of you work alone, 11% of you are part of a team, and 8% work solo, but partner with a team of non-creators. Podcasters are most likely to work in teams (39%), while visual artists are most likely to work as a team of one (94%).
Finding your fans
Unsurprisingly, the platforms where you first found and grew your audience vary based on medium.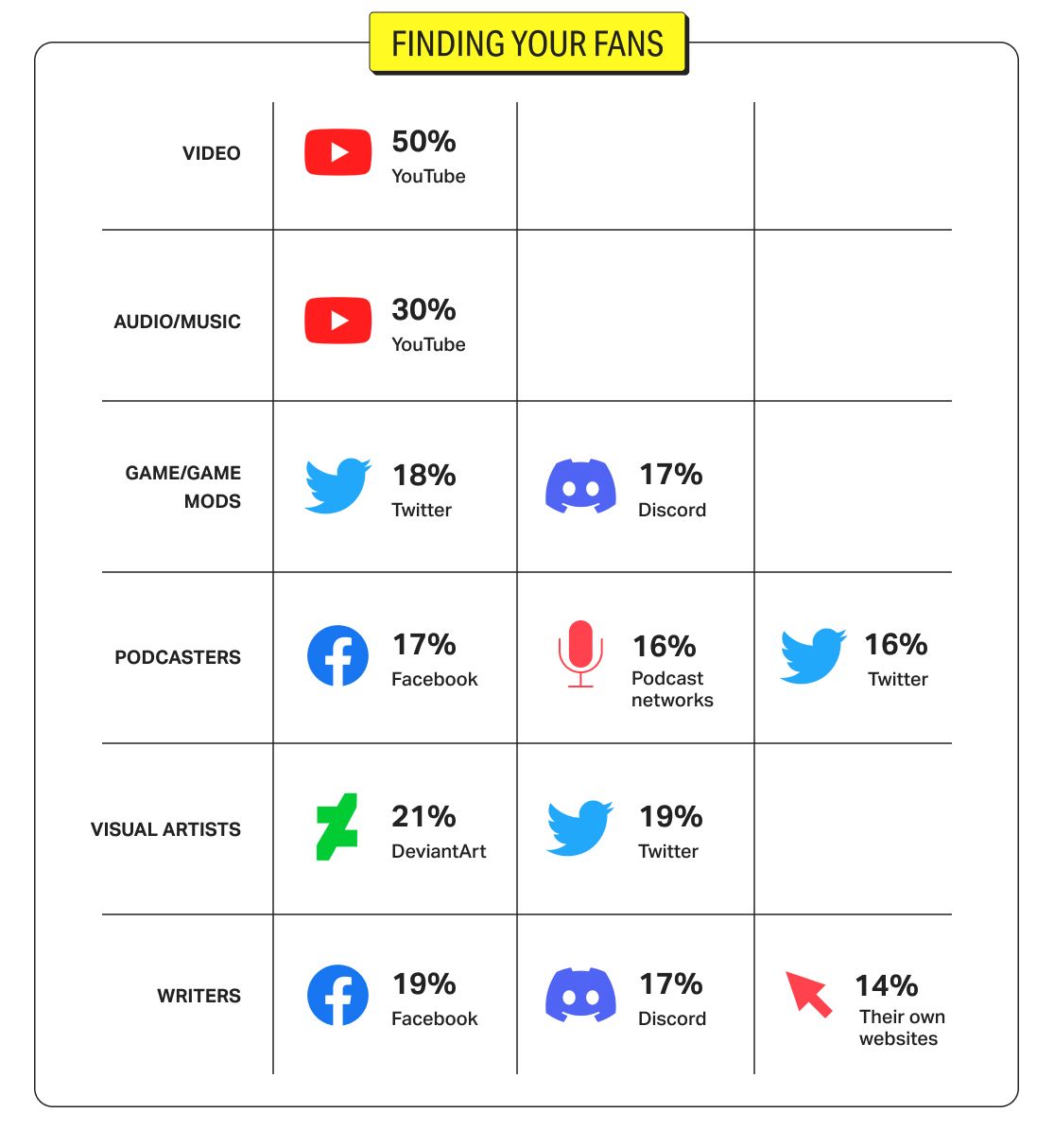 So, where does Patreon fit in?
How important is Patreon to your income?
You told us that, on average, you make over 40% of your income on Patreon. Other top income sources include jobs related to your creative pursuits, commissions, and subscriptions on other platforms. (Numbers rounded up to the nearest whole percentage.)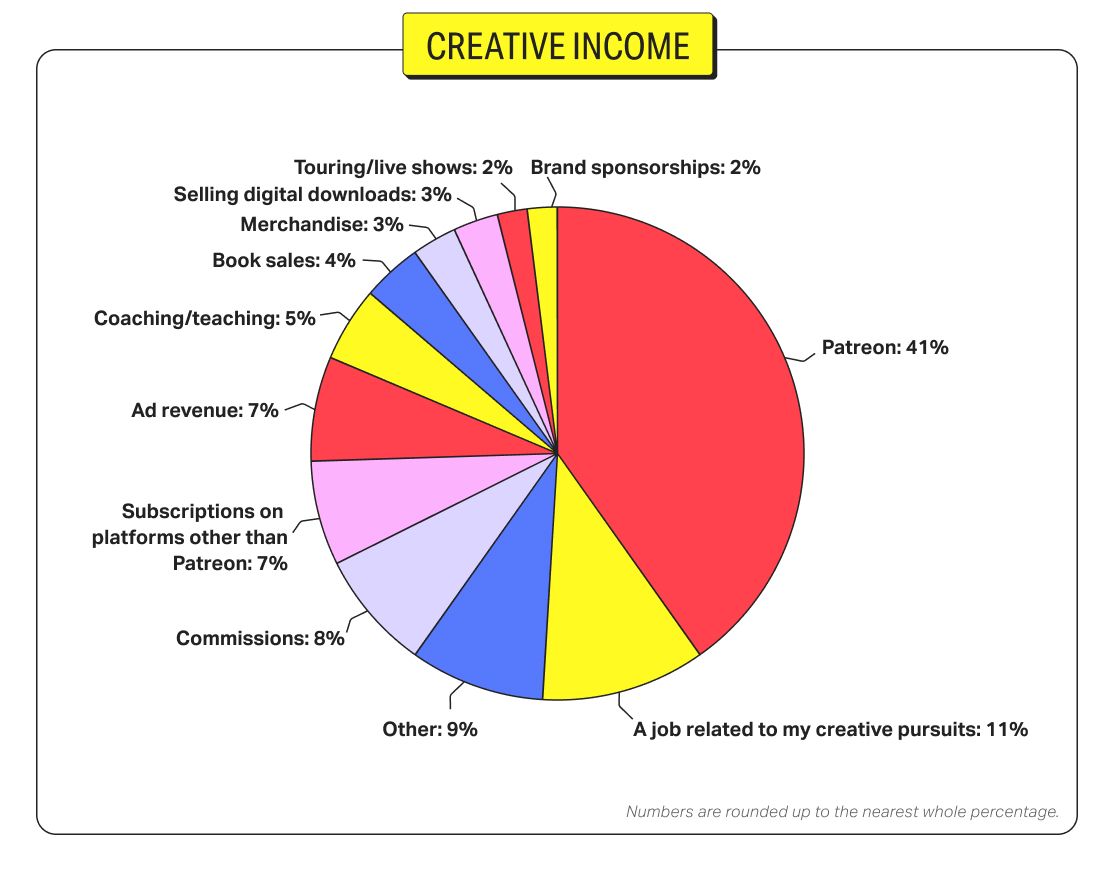 What does your Patreon membership look like?
The most popular benefits you provide your Patreon members (aside from the ability to support your work in general) are exclusive content and early access to content. For many of you, patron interaction through fan requests/voting, shoutouts, and/or community spaces for patrons is a key component of your memberships.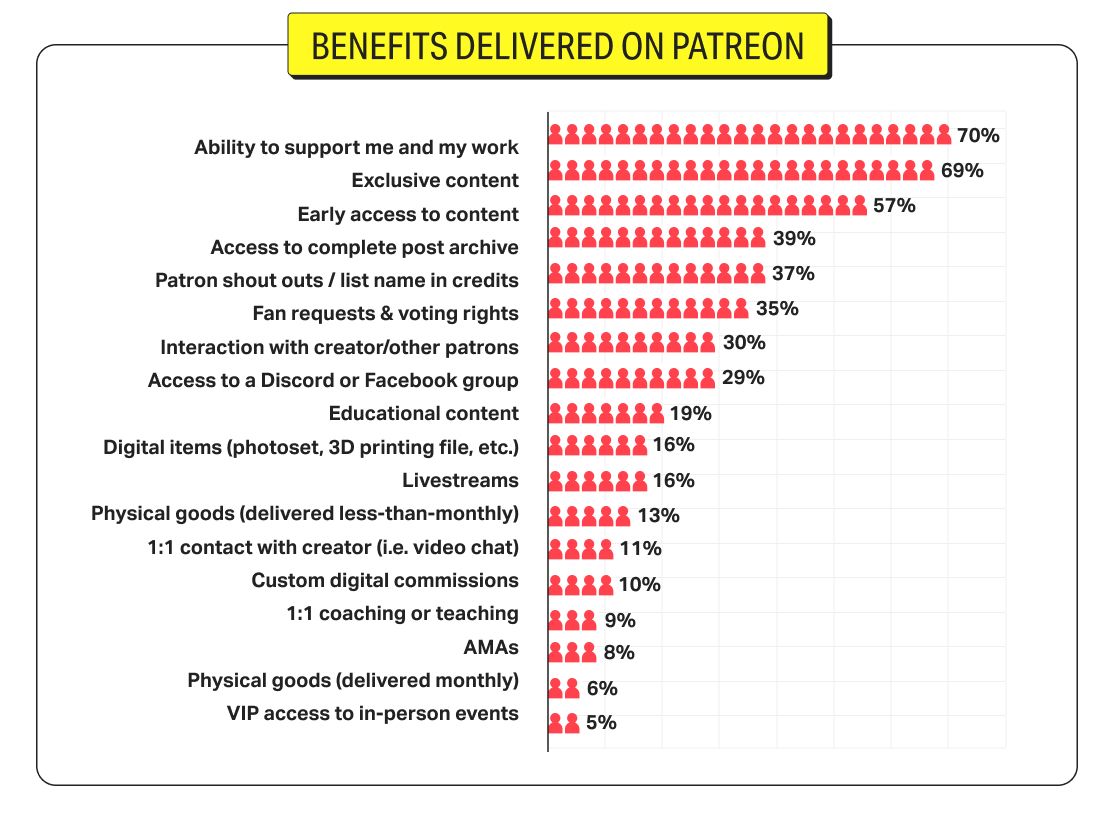 Building a community: what's in a name?
A quarter of you have a custom name for your communities, something other than "patron" or "member." Some unique monikers include: "Lanterns," "Resistance officers," "Sleepyheads," "Inklings," "Slay Squad," "Podsiders," "Couch potatoes," and "Amigos." A third of podcasters have custom names for their communities, which is more than any other type of creator.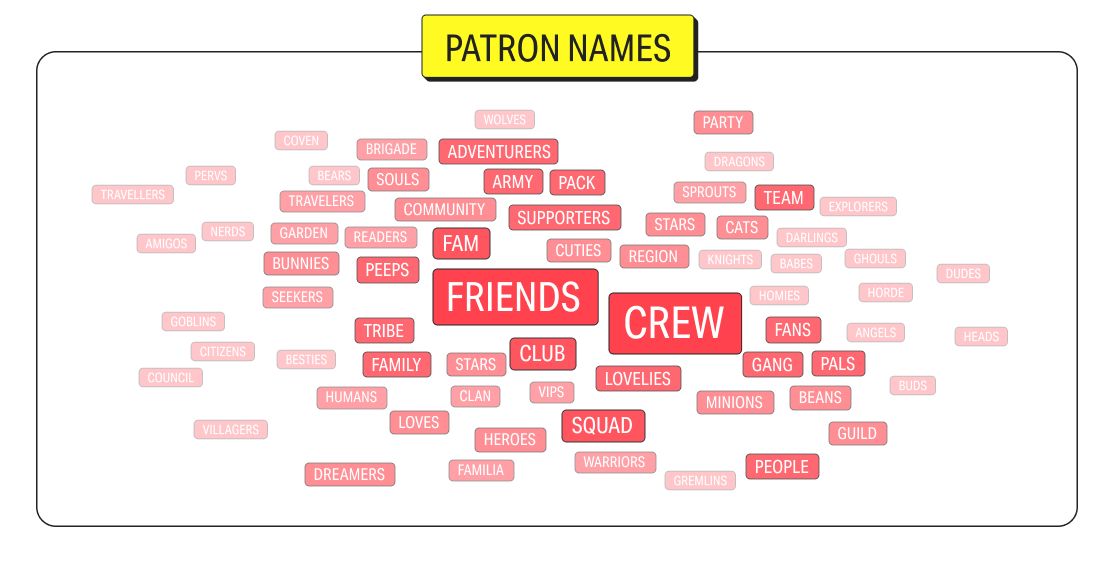 Even when taking into account differences in monthly income, we found that creators with custom names for their patrons see, on average, 4-8% higher monthly retention from their existing patrons. While this data is not causal — naming your patrons won't necessarily cause them to stay around longer — it is a signal that fostering a sense of community among your patrons can help create a deeper a sense of belonging.
Talk about the cool stuff you're doing.
79% of you promote your Patreon at least once a month, while 43% promote it at least once a week, mainly on Twitter, Instagram, and YouTube (in both videos and the video description text).
We also found that promotion frequency is correlated with earnings. Frequent promoters are more likely to have higher earnings than creators who promote infrequently. On average compared with creators who promote only once a month (and controlling for earnings), creators who promote daily earn 75% more and creators who promote once a week earn 31% more.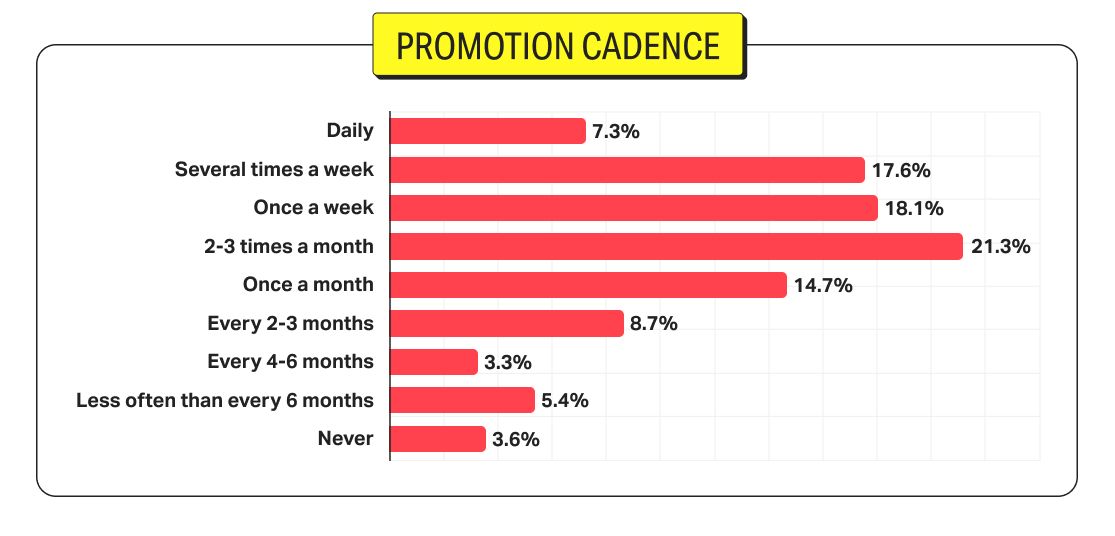 III. Zooming in: high points & pain points
We asked about your everyday experience on Patreon, and you gave us feedback on a number of key areas, including ease of use and how we communicate product and policy updates.
Opportunities for improvement
Overall, you told us that Patreon meets your needs, provides accurate account information, and has clear policies and guidelines. Specifically, you said you want to see more from us in three main areas. Here are some steps we're taking to improve in each of them.
More transparency around decision making
What we heard: You want more context around the decisions we make, from policy to product.
What we're doing about it:

Product priorities and new features: We started by sharing our 2022 product priorities, with context for how we came to each decision. We're also experimenting with new ways you can connect with our Product Team to understand the reasoning behind our approach, such as live Q&A sessions around specific launches.
Guidelines and policies: In addition to quarterly livestreams to gather feedback on upcoming policy proposals, the Policy Team will be releasing a Transparency Report later this year that provides data and context around how we address illegal, harmful, or otherwise violative content.
Better communication
What we heard: You'd like more easily discoverable updates about product improvements, resources, and community events.
What we're doing about it:

Making regular updates more accessible: To ensure our quarterly product roundups are more widely available, we'll now post each update to the blog for you to access at any time. We'll also make sure the "What's New" feed in Creator Resources (at the bottom left of your creator dashboard on Patreon.com) is kept up to date. Lastly, we know some foundational improvements we make (like site speed and playback experience) aren't always obviously noticeable. We'll be better about giving updates on under-the-hood (but important) changes like those.
Updates on key product priorities: Look out for a mid-year update on our 2022 product priorities.

Here's how you can expect to hear from us:

Email: Make sure you're signed up on Patreon.com to receive product newsletters and notices of upcoming events and workshops.
The blog: We'll use this space to share product roundups, introductions to new team members, and deep dives on specific product improvements.
Creator Community Discord: While this space is primarily for you to connect with other creators, you'll also hear from us in #patreon-announcements, #ask-patreon, and dedicated Q&A channels around specific programs, news and announcements (like quarterly policy livestreams).
Resource center: Access a feed of the latest product changes via Creator Resources at the bottom left of your creator dashboard on Patreon.com.
Listening to creator feedback
What we heard: You want to know that we're listening to your feedback, and better understand where/how we collect feedback.
What we're doing about it: Over the years, we've learned that not all creators are comfortable giving feedback in the same way, which was a theme we saw repeated in the Census. That's a key reason why we ran the Census — to provide a new way for all active creators to express themselves. Here's an overview of all the other channels we currently use to hear and learn from creators. We'll continue strengthening these channels by regularly sharing what we've learned (like this report, the Creator Policy Engagement Program, and the upcoming Transparency Report), and finding new ways to connect.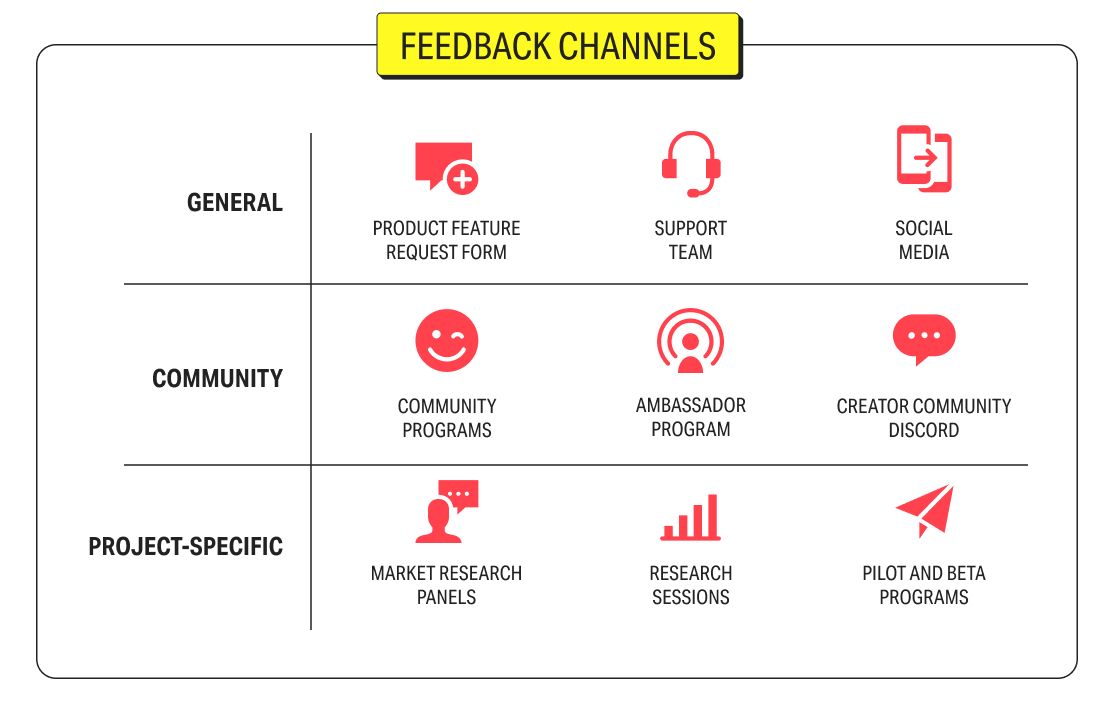 IV. Looking ahead
As creators, you're constantly reinventing and experimenting, and we're alway looking to learn what's helping you along your journey. We wanted to understand what new tools, services, and technologies are on your radar to better support your future aspirations — whether or not it's something we'd build ourselves.
2022 product priorities
We appreciated the opportunity to get your feedback on our 2022 priorities, asking you to rank them by value to your business. Across the board, native video, improved posting, and content organization rose to the top as most frequently ranked in the top two spots, followed by solving billing confusion and a simpler, cleaner design.
We've been expanding beta access to native video and a new billing option, and we've begun making improvements to the posting flow (autosave drafts, more responsive load times) and site navigation. Stay tuned across all our communication channels for a comprehensive update on our 2022 priorities in the next couple months.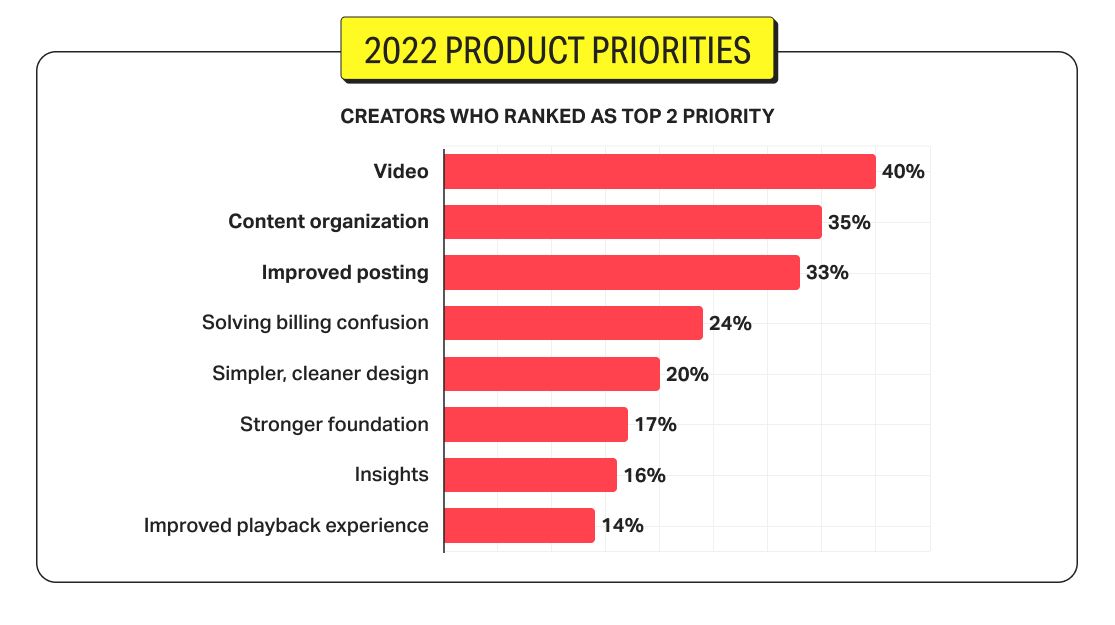 Potential future features
We also wanted to know how you feel about various frequently requested potential features. Your input will help inform how we prioritize our roadmap moving forward. Some of the most popular of these features include:
One-time tipping
Gift memberships
Customized landing page layout
Data about where new patrons come from
Notifications when a patron upgrades, downgrades, or cancels
Allowing creators to control access to previously posted content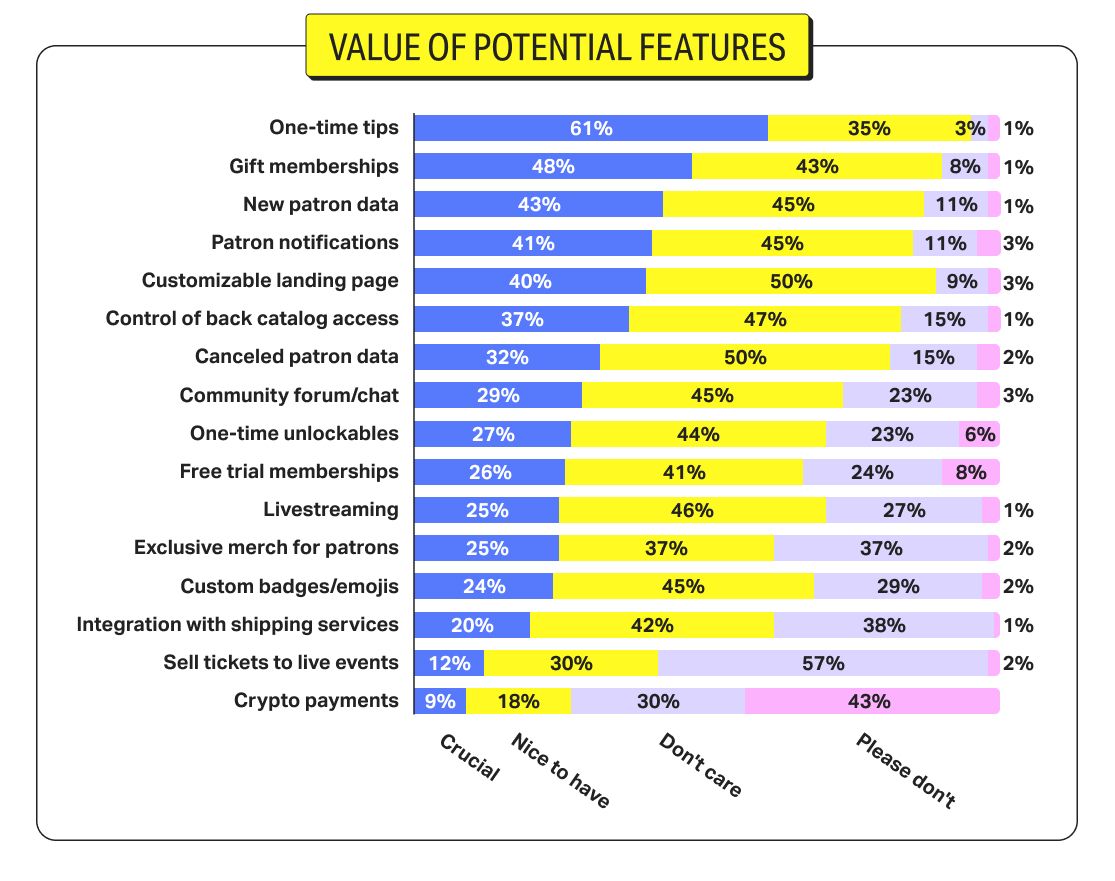 A note on web3:
We know the impact of web3 on the creator economy is a hotly debated issue. While we remain focused on what you've told us you care about most (which your Census responses have reinforced), we are also doing our research to understand how applications of web3 would affect creators, both positively and negatively.
From the Census, public conversation, and other feedback channels, we know there are a range of views within our creator community. Some creators, including many who took this survey, are opposed to Patreon building any web3 functionality due to concerns about potential fraudulent behavior, environmental sustainability, and inaccessibility of the technology in its present applications. Other creators already offer web3 benefits off Patreon, and are excited about the flexibility and value they can offer members with new types of digital goods. In the Census, 68% of visual artists and 50% of writers were opposed to creators having the ability to accept payments in cryptocurrency on Patreon, while 39% of image, 34% of audio/music, and 31% of video creators indicated it would be a "crucial" or "nice to have" capability. Across creator types, about a third say they "don't care."
As new applications of web3 arise, we'll continue doing our due diligence in evaluating what opportunities and pitfalls they may hold for creators, as we do with any emerging technology. We're not in the business of doing something new just because it sounds cool. Now and in the future, our north star is intentionally building technology that drives long-term value for creators. For that reason, any time we consider building anything new, it needs to:
Give creators ownership of their creations and fan bases
Offer creators freedom and flexibility to work on their own terms
Give creators opportunities to build their businesses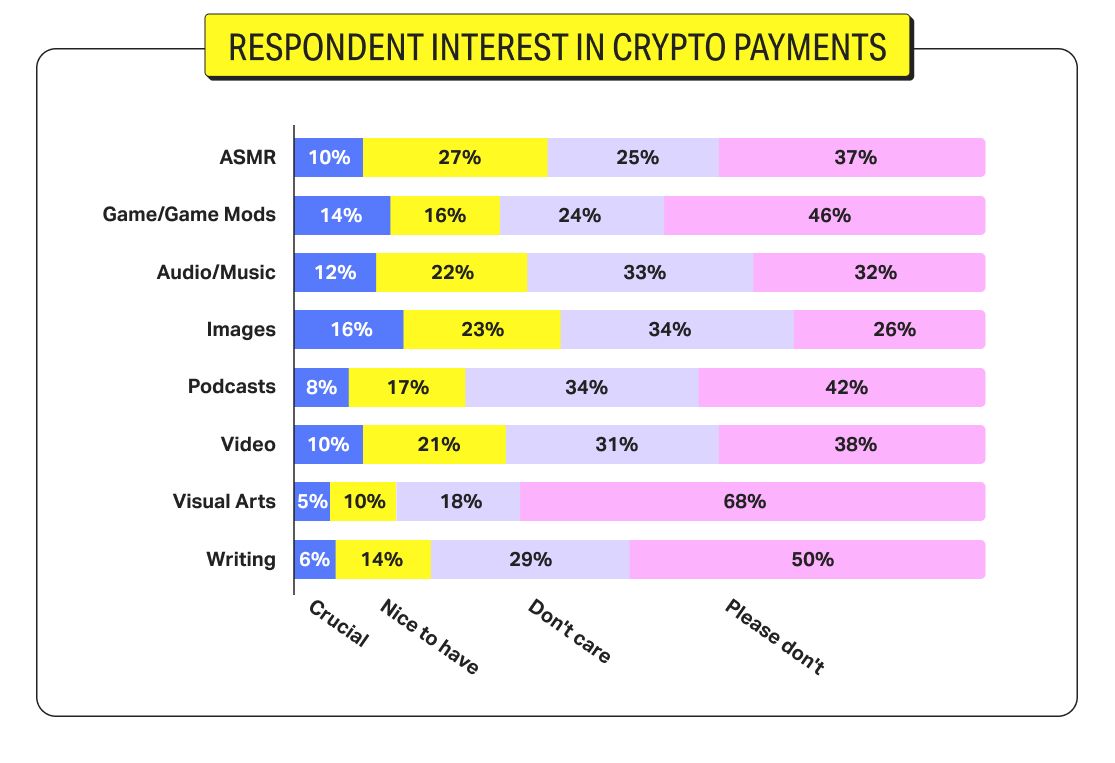 What do you most aspire to do as a creator in the next couple of years?
Without question, your top aspiration for the next couple of years is to grow your audience. A quarter of you are also eyeing new collaborations with creators and experimentation with new mediums.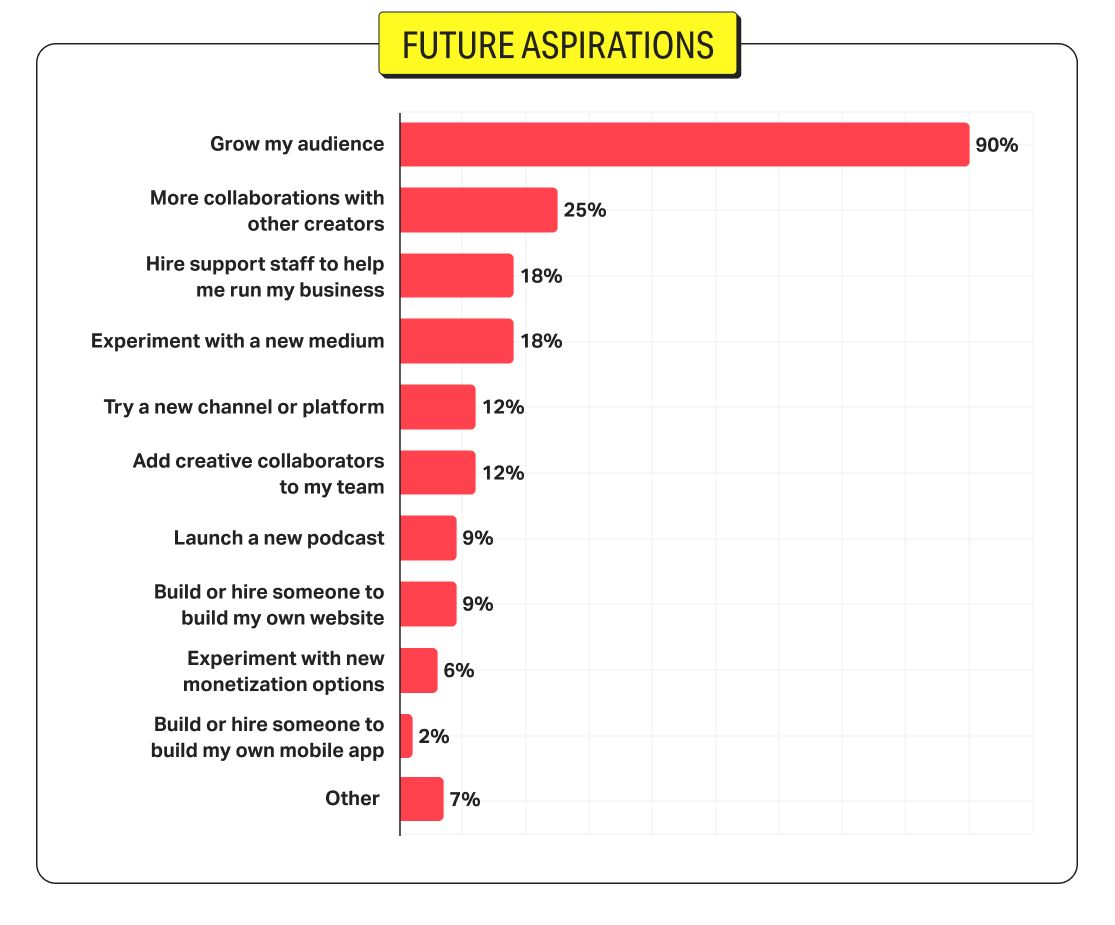 Thank you!
Being a creator today is one of the most difficult jobs out there, but it's also one of the most rewarding. Our goal with this Census was to better understand what you need and want, so we can provide the best possible platform for you to do what you do best. To all of you who participated in our Census: thank you. We're so excited to use what we've learned here to hone our priorities in the coming months, and beyond. Stay tuned!