We're going all in on community by giving fans their own space to chat and connect
September 7, 2023
Today we're introducing member profiles and community chats, two new features that will help members build stronger relationships with creators and with each other.
---
Everyone knows what it's like to be a fan — to be so passionate about a creator's work that you earn yourself a spot in their community. Whether you're collecting handmade stickers or overanalyzing lyrics to a song, being a fan fulfills a deeply human desire. It makes people feel like they're part of something bigger.
Now, that's all at risk. It's harder than ever to be a fan in a world where algorithms prioritize consumption over connection. There's no surefire way to stay in touch with the creators you care about and find the work that moves you, which means that the communities built around these creators may be lost altogether.
That's why we're committed to giving fans a space where they can truly experience community by introducing new features and tools that'll bring fans closer to creators and to each other.
Get to know your community with chats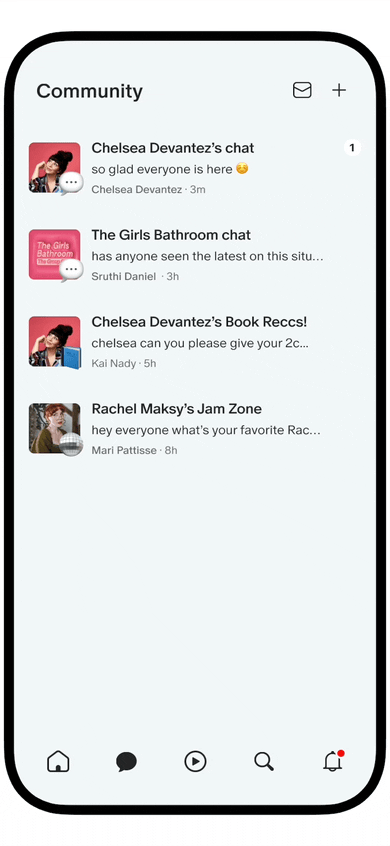 Chat with other members outside of the comment section. Finally, you can connect with other members to discuss creators' work, share your opinions, and get to know each other directly on Patreon.
Join in on creators' chats, which they can customize by name, topic, emoji, and member tier. You can share text, photos, and emojis, and creators can also share previews of Patreon posts to let you know as soon as they upload something new.
"The Patreon chat feature is so, SO helpful and exciting. I genuinely have always wanted a little group chat for my community to talk about the random things that interest us, or to bounce project ideas off of. There's something so specific and special about having that real-time aspect to it and knowing that we're all in the same space together, rather than leaving a comment on a post after the fact. It just feels like a little hang-out for friends and I hope it leads to friendships within the community! How wholesome would that be?!"
- Rachel Maksy, video creator
Chats are led and managed by creators, which means they can shape the culture and set the right tone for their communities. Members can flag and report messages, and creators can use a designated hub to review them.
Customize your own member profile
With member profiles, you can own how you show up in any community you're a part of by customizing your name, photo, and bio. In the future, you'll be able to showcase your role and your community contributions on your profile, too.
Join in on the conversation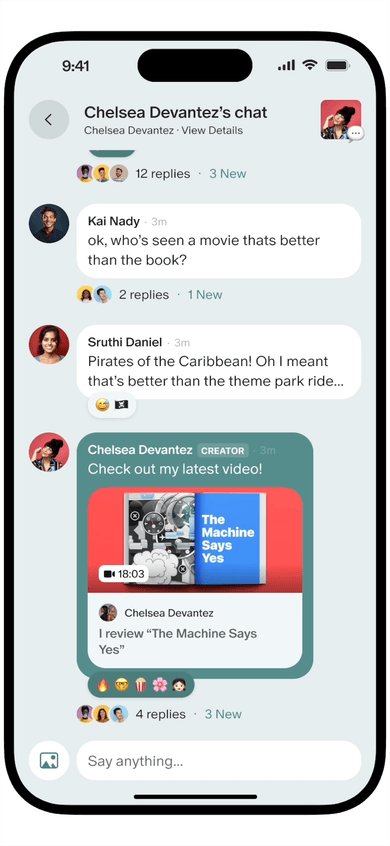 We're in the early days of developing these community features and can't wait to continue improving them with your help. Community chats and member profiles will begin rolling out today. We're still in early testing, so if you don't see chats just yet, you'll start seeing them in your communities in the coming months. You can also download the Patreon mobile app to get the most out of these features when they become available to you.
Have questions? Visit our Help Center to learn more.